What are the Steps in our Franchise Ownership Process?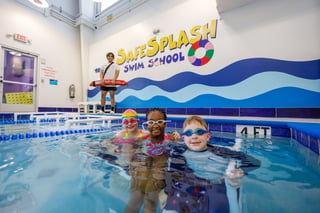 Many people contemplate the possibility of becoming their own boss at the beginning of each new year. When you think about it, is there any better time than the present to make a move that could change your life for the better? Of course not. But it is important to consider what the right business opportunity looks like to you. It's a personal journey and well worth the effort, as many current franchise owners will share. That's why Streamline Brands has a proposition for you to consider. If you have a passion for providing life-saving swimming skills in your community, and a desire to become your own boss, Streamline Brands just might be the franchisor for you.
To facilitate the notion of becoming a franchise owner with Streamline Brands, we decided to reiterate the steps involved in our process. Starting now, you're only nine steps away!
The first step would be to fill out our inquiry form. From there, the process can formally begin. You'll have a quick 15-minute call with our franchise development team, designed to assess your overall situation and get answers to any initial questions you may have. After the phone call, should you choose to move forward in the process, you'll share further information with Streamline Brands. This step includes signing a non-disclosure agreement and the formal Streamline Brands application.
After the agreement and application have been completed and processed, you'll schedule a convenient time for a brand overview presentation. Here, you'll learn about our brands and their key differences. Once this step is complete, you'll be ready to receive and review the Franchise Disclosure Document (FDD). The FDD is one of the most critical steps, as this document includes everything there is to know about your partnership with Streamline Brands – along with the roles and responsibilities of the franchisor and franchisee alike.
Moving forward, Streamline Brands can introduce you to qualified lenders who are trusted and equipped to take you through the financing process. We are committed to being by your side every step of the way. Once your financing is secured, you'll speak directly with Streamline Brands CEO, Matt Lane. You'll learn the story behind Streamline Brands and all of our franchise opportunities and have a chance to ask questions and get additional advice and guidance. You'll also attend what we call "Splash Day," an in-person opportunity to meet the team and conduct a final two-way assessment. Afterward, if there's a fit between both parties, you'll get final approval and be presented with your official franchise agreement.
Once you've reached this stage, it's time to start scouting for the right location to set up shop. Our master brokers will help you by reviewing and analyzing your market and touring local sites to access potential venues. As we've said before – we are with you every step of the way! Next, it's Academy Time! During Academy, you'll undergo training to get the certifications needed to own and operate your swim instruction school. You will learn everything you need to know and get to meet the incredible Streamline Brands support team!
Once all nine steps have been completed, you're ready to launch your business with the Streamline Brands team! We will help you with marketing and assist with your grand opening right by your side to celebrate your accomplishment!
Small businesses are the backbone of America. Streamline Brands is honored to be just one avenue by which franchisees can start their business venture from the ground floor – including a safety net of support and guidance.
Let's Chat!
As the industry's leading swim instruction franchising group, we're dedicated to offering meaningful small business ownership opportunities. You can learn more about each of our individual brands by following these links:
SafeSplash, SwimLabs, and Swimtastic are the fastest-growing swim school franchise brands; chances are there's an opportunity near you. Finding a location is easy and fun. Simply visit our directory of schools, listed by state, and click on the results. If you're interested in exploring franchise ownership with one of the Streamline Brands concepts, fill out this form and hit submit. We'll be in touch soon!