5 Reasons You'll Be Thankful to Become a Franchise Owner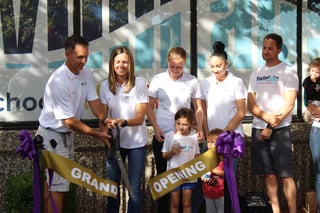 The American workforce is experiencing a revolution of sorts. Over the past couple of years, record numbers of 9-to-5 workers voluntarily exited their day jobs and began seeking new opportunities. For many, that meant becoming their own bosses. As we enter the season of thankfulness and the new year dawns, we can't help but reflect on this year and what we aspire to achieve in the next.
In the spirit of the season, here are 5 reasons you'll be thankful to become a franchise owner:
Entrepreneurial Pursuits
As for the American dream, franchising is about as close as one can get. Franchising is entrepreneurship at its finest. As a franchisee, you are your own boss, but the opportunity comes with a built-in safety net. The franchisor provides a business model that's been refined to provide proven success. The brand has already done the hard work for you.
Replication = Success
Since it is November, you could liken this arrangement to how the Native Americans taught the Pilgrims how to plant and harvest maize and other crops. The parent company has already refined its process - and can show you exactly how to produce the desired results you desire. Basically, franchisors are there to provide you with support in the form of a risk avoidance safety net.
Brand Recognition
But let's not forget the power of brand recognition. That's another factor for which to be thankful. When you become a franchise owner, you begin with a product or service that consumers are familiar with – and possibly even desire. The likelihood of success and profitability are significantly increased by the fact that you may have brand-loyal customers from day one.
Unmatched Support
Training and support are provided to franchisees by the franchisor. It's yet another way that the brand looks out for the franchisees in their system. Knowing how to train and support the next generation of owners has been refined over time, greatly increasing the effectiveness of these efforts. Of course, franchisors do have a vested interest in seeing their franchisees flourish. Every additional successful location is another feather in the brand's cap and proof that the operation is succeeding.
Economies of Scale
Franchisees also greatly benefit from the economics of scale. Large companies can purchase in bulk from key vendors and suppliers, which cuts overhead and other costs. Every penny counts when starting up a new business, and over the course of time, these discounts can really make a difference in profitability. Interestingly, financial options are also more abundantly available to franchisees. Since franchises are more successful than small startups that go it alone, they are the safer bet for financial institutions, resulting in increased access to loans and other financial services.
Thankfulness is a hallmark of humanity, as is ambition. If you decide to take the leap and give franchise ownership a try, it won't be hard to find things for which you'll be thankful. These include becoming your own boss, making your own schedule, gaining the knowledge to execute a successful startup, marketing and location support, and even help with financing! Yes, franchising offers us all many reasons to be thankful.
Let's Chat!
As the industry's leading swim instruction franchising group, we're dedicated to offering meaningful small business ownership opportunities. You can learn more about each of our individual brands by following these links:
SafeSplash, SwimLabs, and Swimtastic are the fastest growing swim school franchise brands and chances are there's an opportunity near you. Finding a location is easy and fun. Simply visit our directory of schools, listed by state, and click on the results. If you're interested in exploring franchise ownership with one of the Streamline Brands concepts, simply fill out this form and hit submit. We'll be in touch soon!