5 Reasons the Swim School Industry is Hot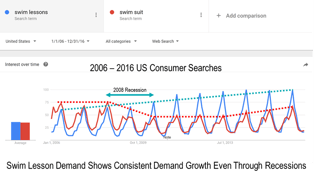 As CEO of the largest franchisor of swim school brands in the U.S. (SafeSplash, SwimLabs, and Swimtastic), I often get propositioned by developers to add swim schools to their retail centers. In 2017, there seems to have been a marked increase in the propositions. The question is why are swim schools such a sought-after tenant in retail centers these days? Here are my top 5 reasons:

1) Swimming Is A Life Skill® Not A Trend:


Swim schools provide a service that is fundamental to basic safety and human development. 8 of 10 parents will agree that teaching their child to swim is a life skill® that is on par with teaching their child to walk, talk, or ride a bike. In addition, it is well documented in research that in times of recession, humans will not reduce spending on core "feel good" expenditures such as kids, pets, and entertainment. Put these together and you've got a business that is not only a life skill, but also exhibits recession proof characteristics. The chart below shows the difference in web searches for swimsuits vs. swim lessons through the 2008 recession.




2) Consumer Services Is A Retail Segment That Is Amazon-Proof:


Amazon seems to be winning these days in nearly every retail category where consumer packaged goods are involved. And if Amazon isn't winning, there seems to be an acquisition strategy that emerges. It is a pretty impressive machine. This said, Amazon will have a hard time using that engine to devour consumer retail services. Retail services require well-trained, passionate people at a local level. That type of industry will consistently be driven by local business owners that are connected to their local communities. That makes consumer services "Amazon-proof" and therefore a desirable tenant for the significant amount of retail space that has been built by developers throughout the US. Tenants like SafeSplash Swim School or SwimLabs Swim School help developers insulate themselves from the e-commerce risk posed to them by Amazon and similar businesses.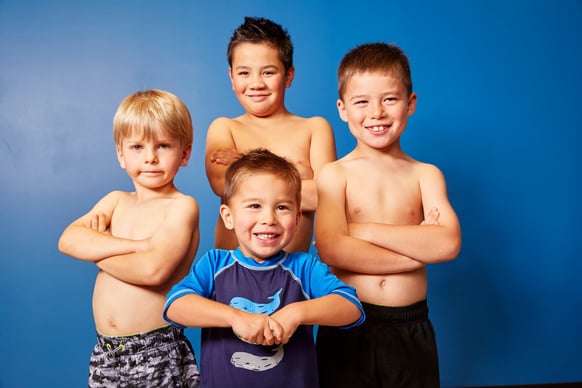 3) An Underserved Market:


Swim schools began to emerge on the US retail scene as an "industry" roughly 20 years ago. Primarily a cottage industry in heritage, less than 1000 schools have been built throughout the country. After adjusting for population, socio-economic factors, and market saturation, we believe the market has room to more than double the number of swim schools that are currently built. Needless to say, it is an underserved market with plenty of opportunities to be captured.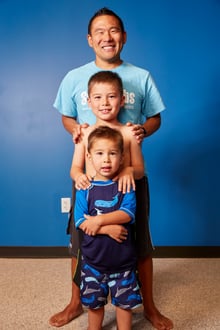 4) What Industry Doesn't Like Recurring Revenue?


Similar to other education businesses, Swim schools are built around a recurring revenue model. Families enroll in lessons and continue in the program until they withdraw. This type of model lends itself to predictable revenues, straightforward expense management, and predictable cash flow. This is the trifecta for any industry/business.
5) No signal that couples will stop having babies anytime soon:


I think it is fairly safe to say that the human race won't stop having babies anytime soon. That is likely a trend that will be hard to stop. Kidding aside, this constant flow of kids creates a market for swim schools that not only grows at the rate of population growth, but also seems to be outpacing that rate as parents look for boutique services for their children that provide exceptional experiential learning.


From my vantage point, swim schools are hot. They are attracting investment dollars at an accelerating pace and are attracting the attention of retail real estate developers as well. If you have a passion for kids, a passion for helping your community with essential life skills and/or a passion for swimming, contact us at Streamline Brands. We can definitely help educate you on the market and can help you capitalize on the market with our franchise opportunities. Our franchise model is stacked in the franchisee's favor…we take care of the tough stuff and leave the fun stuff to you. We'd be happy to introduce you to several of our franchisees and let you ask them yourself.