Why I purchased the Streamline Brands franchise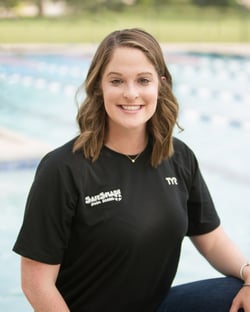 Hello, I'm two-time Olympian and SafeSplash + SwimLabs franchisee Cammile Adams.
After retiring from the sport of swimming in 2016, I knew I had a passion for teaching kids, after all, I did major in Education. However, after two years of teaching in the public-school system in Houston, I felt something was missing. While I loved being with my students and watching them grow, I knew teaching in the classroom was not for me.
In early 2018, my husband and I decided to look at other ways we could give back to a sport that completely changed my life and gave me so many opportunities. By May of 2018 we decided it was time for me to return to the life by the water. We purchased our business with Streamline Brands and have not looked back.
When looking at purchasing a learn-to-swim franchise, the curriculum was obviously one of the most important parts of the puzzle for me. If I was going to put my name on a franchise curriculum, I wanted to make sure it was the way I would teach swimming lessons and something that I truly believed in. Streamline Brands curriculum did not and continues to not disappoint! I love the progressive model of skills that starts at the basics!
When we started our business in 2018, we purchased six hosted locations inside of gyms that were previously owned and managed by the corporate office. I really enjoyed buying the business in the gyms first so that I could focus on the curriculum and the type of instructors we wanted to hire without having the overhead costs of a dedicated facility.
In 2020, we decided to expand our business and just completed construction of our first dedicated dual-branded (SafeSplash + SwimLabs) facility in Katy, Texas. We are scheduled to open January 11, 2020 and could not be more excited and humbled at the opportunity to continue to grow and offer swimming lessons across the greater Houston area. Sharing my knowledge for the sport and the learn-to-swim curriculum has been a huge blessing on my family's life.
If you are a swimming person, or not, and thinking about buying into a learn to swim franchise, Streamline Brands is the perfect home for you!