Level Up Your Swim Gear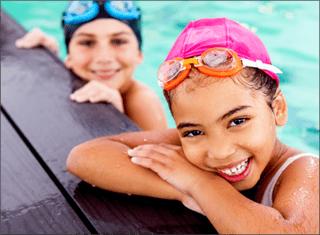 Learning to swim provides mental and physical benefits for children, not the least of which includes a lifetime of safety in and around water. When the time comes for your family to consider those all-important first lessons, here's a full rundown of all the gear you'll need to keep your child safe and ready to learn. Before you get started, it's always a good idea to get acquainted with your child's swim instructor and at SafeSplash, each and every one of our teachers can answer any questions you have.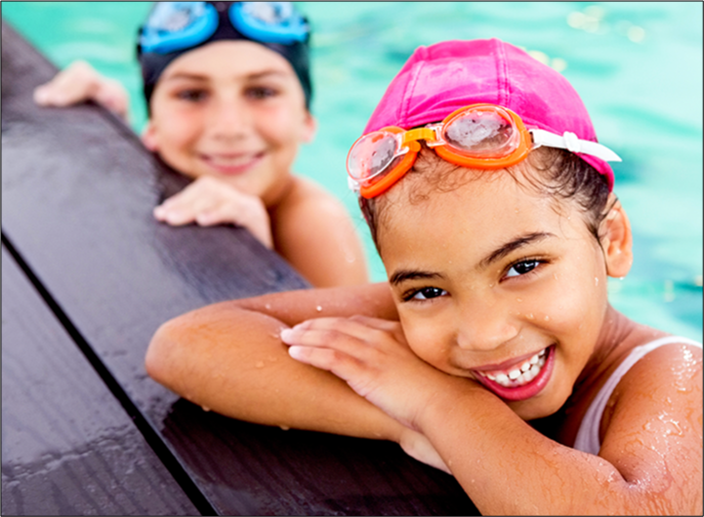 Each location varies so necessities will too! Keep in mind your specific swim school location when choosing swim gear! There are also a few unnecessary items, which we'll cover as well. Keep in mind that everything listed below that's required is available for purchase at our swim schools, so if you forget something – no big deal!
If you're ready to get started, here's a checklist of four basic required items, with an explanation for each item:
Swimsuit – boys and girls need an appropriate swimsuit, and the fit is important. Be sure that your choice of swimsuit is snug, but not too tight. For girls, both one and two-piece suits are OK, but swimsuits of a more advanced style may be required for swim team participation. Both boys and girls may wear rash guards.
Goggles – when children are first learning how to put their face in the water, goggles can be quite helpful in the "get acquainted" stage with the pool. Goggles offer an extremely clear view of what's going on beneath the surface and can be reassuring when learning to swim in water that's too deep to stand. Goggles also help keep chlorine and other pool chemicals from irritating the eyes
Swim caps/Hair ties – this equipment can help those with longer hair keep it out of their face when swimming. Head coverings help with swimming aerodynamics, as children learn to move through the water with ease
Towel – each child should bring his or her own towel, to keep on the pool deck during lessons. Once they're out of the water, children should dry themselves quickly – to avoid pooling water that can lead to a slip and fall later. They also do a great job warming kids back up in the event the pool isn't heated
Swim Diapers – obviously, this applies only to our toddlers who are learning to swim, but if your child is not formally potty-trained, reusable swim diapers are mandatory for the health and safety of all of our students
The rest of this list includes swimming items and equipment that are officially optional, but may be a good idea to bring to your child's swimming lessons:
Flip-flops – a cheap pair of sandals or flip-flops can help swimmers navigate the pool deck with more traction than bare feet
Water/Snacks – as a parent, you know that your child's hunger and thirst can arise at any time – especially after exercise, so it's best to be prepared with hydration and a light snack – just make sure the snack is reserved for after the swimming lesson, not before
Sunscreen – if your child is learning to swim at an outdoor facility, sunscreen or sunblock is highly recommended. The last thing you'll want to see after a swim lesson is a sunburned student!
Below is a group of unnecessary items probably best left at home:
Pool toys/Noodles – these items should be reserved for a more relaxed atmosphere, and not to be used in any way during swim lessons. We don't want any distractions for our students as they learn an important life skill. This includes water toys, water guns, super soakers, water balloons, and innertubes, to name a few
That completes the checklist or required, suggested, and prohibited items. But if you still have any questions or concerns, our certified SafeSplash swim instructors can provide you with an answer regarding any gear and equipment.
As the industry's leading swim instruction franchise group, we're dedicated to offering turnkey lessons that take swimmers through a natural progression of advancement. You can learn more about our individual brands here:
SafeSplash, SwimLabs, and Swimtastic are the fastest-growing swim school franchise brands and chances are there's an opportunity near you. Finding a location is easy and fun. Simply visit our directory of schools, listed by state, and click on the results. If you're interested in exploring franchise ownership with one of the Streamline Brands concepts, simply fill out this form and hit submit. We'll be in touch soon!