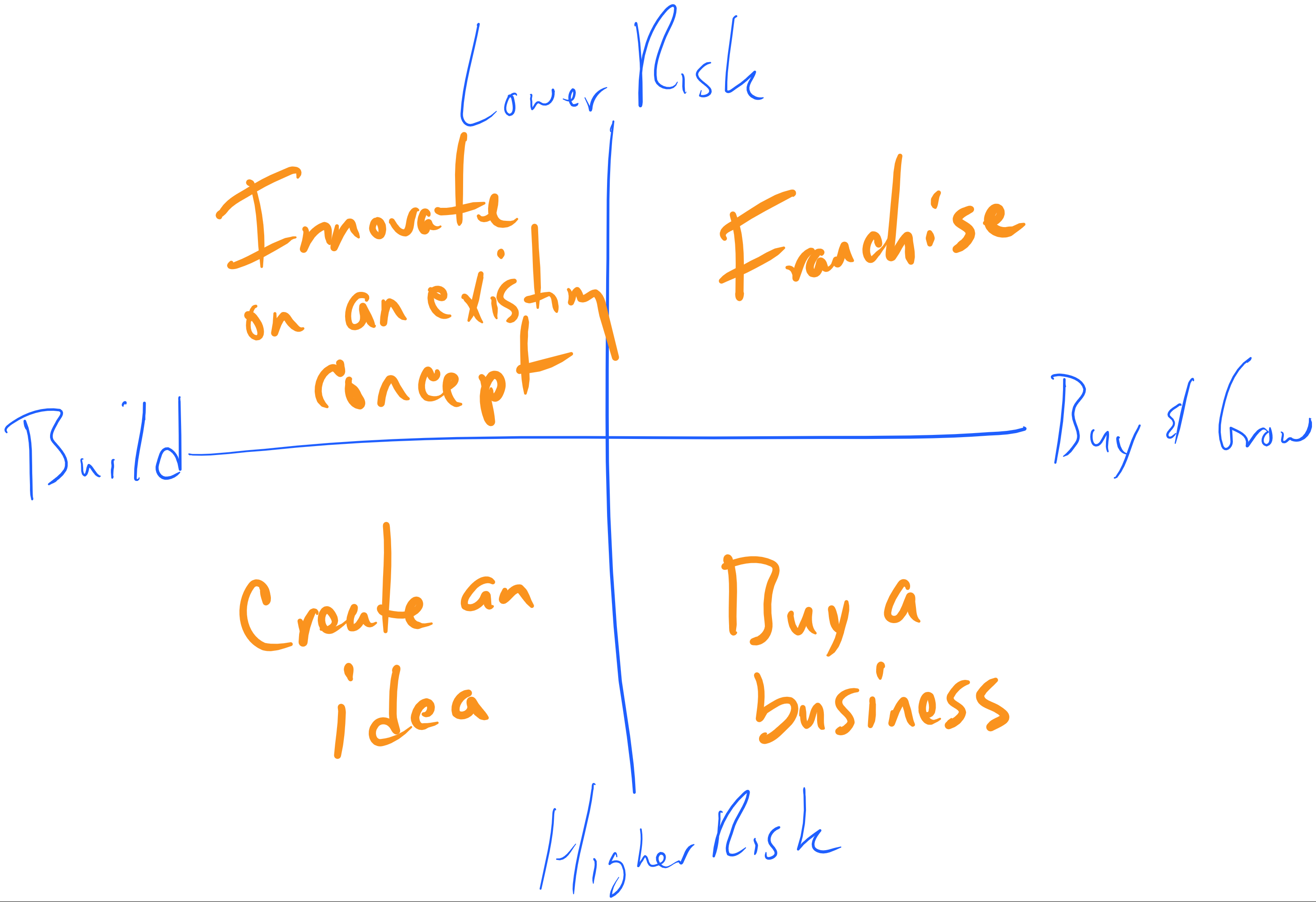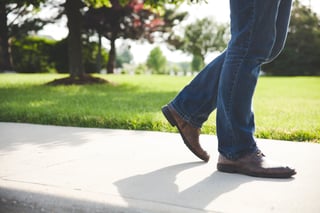 It is a lot of fun to be an entrepreneur. It is incredibly rewarding. It is exciting. It is a chance to chart your own course. It is an opportunity to build a legacy for and your family. It is a personal challenge. It is an opportunity to create real wealth. It is a learning opportunity.
But from my perspective, the best thing about being an entrepreneur is freedom, one of the most innate sources of satisfaction that we have as humans.
I was talking to one of our franchisees last night over dinner. He is both a franchisee of SafeSplash and a franchisee of a trampoline concept. Prior to becoming a franchisee, he was deeply involved with corporate strategy at Intel (the technology company). He is an incredibly smart and accomplished guy…someone I have a lot of respect for. Growing up in the high tech industry myself, we got talking about career choices and what we both thought about leaving high paying careers in technology to become entrepreneurs. I asked him if he's happy with his choice to leave the "corporate" world. His response was, "Matt, I'll never go back to that. I can't. The freedom and fulfillment I have as an entrepreneur/franchisee and is incomparable. Even if they begged me to come back, I don't think I could. I'd choke." I couldn't agree more.
That said, there are many different ways to become an entrepreneur, but to me, the choices can be characterized by one's tolerance for risk and the concept of buying vs. building.
Being an entrepreneur always involves risk, but being an entrepreneur doesn't necessarily mean you need to be a maverick that throws caution to the wind. With respect to building vs. buying, I was in a conversation years ago with a very successful private equity investor. He was talking to me about my experiences as an entrepreneur. He heard the passion in my voice about how much I've loved my experiences starting businesses and he said, "Starting a business is great, but isn't it a hell of a lot easier to buy one? Don't the smart entrepreneurs buy businesses and grow them?" It made me stop and think. Up to that point, I had never thought much about buying businesses.
So putting these two dimensions together, I have a tendency to think of the entrepreneurial space like this (drawn by yours truly…don't comment on my handwriting…substance trumps style, right?):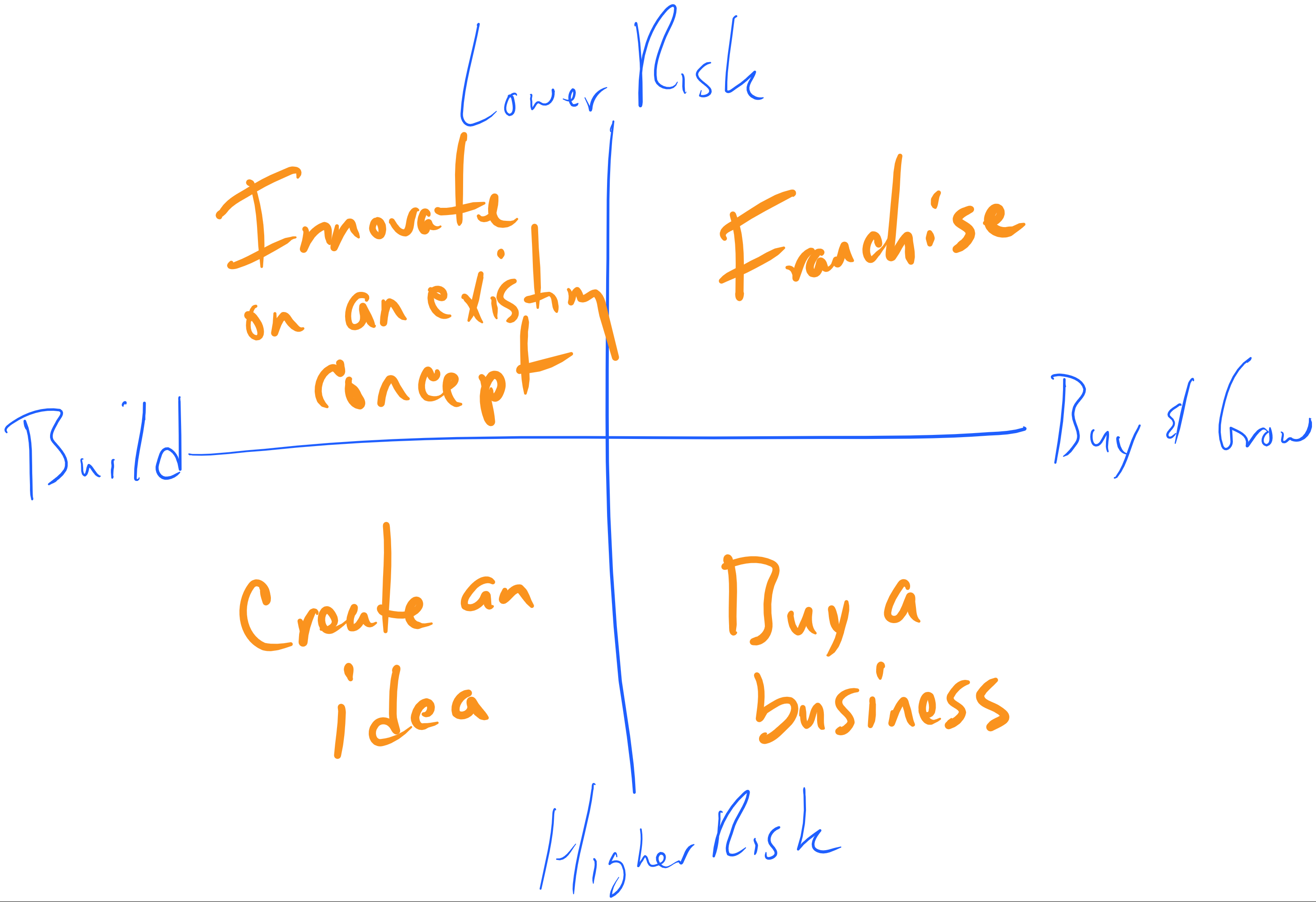 Different entrepreneurs will take different paths. But when you look at the landscape this way, you can't help but be drawn to the notion of investing in a proven franchise concept vs. the other routes to being an entrepreneur. No need to be a Lone Ranger or a Maverick. Work smarter over harder, right?
Five reasons I believe franchising is the best path to building a career as an entrepreneur:
1) Franchises are lower risk: Franchises are proven concepts. They eliminate some of the risk associated with whether your business will work. They eliminate much (but not all) of the guesswork. There is a recipe to follow, but not a guarantee of success. The energy and excitement of starting your own business is still there, but a big part of the risk curve is eliminated.
2) Franchises give you a built in peer group: Franchises give you a peer group of other franchisees with which you can share ideas, obtain battle tested guidance/coaching, learn the good, bad and the ugly about a business, innovate, etc. Entrepreneurs are risk takers, but being a risk taker without a group of advisors can be a lonely strategy.
3) Franchises give you a head start on time to market: Franchises eliminate the need to spend your time "designing" the business. They give you the ability to get started immediately in the execution phase. Time to market is valuable to every business person, especially entrepreneurs.
4) Franchises are marketable: Every entrepreneur needs to understand their exit strategy. At some point, every entrepreneur will need to exit their business and move to the next chapter of their life. Getting involved in a "one off" business makes an exit harder than a franchise system. A franchise system is a known quantity to many and therefore the marketability of a franchise is much higher than a "one off" when the time for an exit arrives.
5) Franchises offer the opportunity for efficient diversification: Most franchises offer the ability to quickly open multiple units, and multiple units allow an entrepreneur to take advantage of another way to lower risk by diversifying market risk. Multiple units allow for the ability to diversify an investment across a range of markets/demographics, increasing the chances of success.
Being an entrepreneur has been one of my most rewarding (and demanding) choices I have made in my life. For all of those aspiring entrepreneurs out there…try it. You'll likely LOVE it!
Matt Lane is the CEO and Founder of SafeSplash Brands, North America's largest and fastest growing network of franchised swim schools. Matt got started as an entrepreneur at the age of 31.