Franchisee Support During COVID-19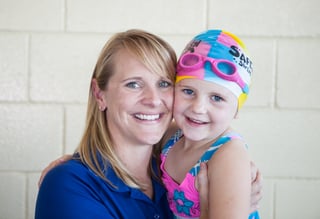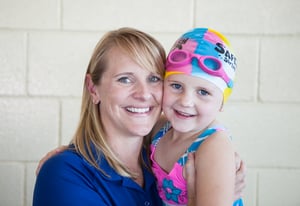 On March 16, it all changed. Due to COVID-19 we were told we had to shelter at home. As a small business owner this meant ceasing all operations, furloughing all employees and going into a realm of unknown. For the past 14 years, I have been working relentlessly to build and grow my swim school business. Just over a year ago, my husband and I took out a SBA loan and refinanced our home to build our own dedicated SafeSplash Swim School (our other schools are a hosted model and are run out of a 24 Hour Fitness). With all my schools shut down, the uncertainty has been almost crippling at times. I have put my family in debt to continue my dream of teaching children to swim. What now?
As a swim school owner, we cannot provide curbside pickup swim lessons. My employees have bills to pay and are now unemployed. Our students and families who were learning the important life skill of swimming now have nowhere to go. Overwhelming information about relief loans, paycheck protection loans and more came flooding in. Extended stay-at-home orders are put in-place causing great uncertainty of when we can open again. And finally, the ever-changing health guidelines to wade through to know what our new normal will look like.
Through it all, I have not been alone. Our franchisor, Streamline Brands and my fellow franchisees have come together in an astounding way to navigate what is happening in our field of business. As a former competitive swimmer, the value of TEAMWORK has always been at my core and now more than ever, the beauty of this bigger and established franchise system is that we all have different areas of expertise and strengths that can elevate us as a whole.
Beginning the week of March 16, we held bi-weekly calls to come together as a franchise community to understand what was happening from a 30,000-foot view, to what each one of our franchisees is experiencing in individual markets as some markets were completely shut down, while others had felt no impact. These calls included conversations around everything a small business owner needed to know, understand, and immediately take action on. Most importantly, it was a constant reminder that we were not alone and that we are in this together. Without the leadership and guidance of our team at Streamline Brands and our franchise system, I would still feel hopeless and defeated.
As we move into May, I am confident we will come out stronger. With the help, backing and leadership of Streamline Brands, we have moved into a re-open phase. We have the support of an amazing system and overall guidance and knowledge of an incredibly talented and hardworking group of people. At a community level, I have connected with most of our families and they are rooting for us to succeed. Our amazing instructors have been resilient and are ready to come back to work and see their swimmers. I know we will soon be able to bring JOY back into the small business world and the lives of families living in the communities we serve.
- Jaime Zilverberg, owner of SafeSplash Swim School Castle Rock, SafeSplash Swim School Castle Rock Abbey Lane and SafeSplash Swim School Lakewood.