Water Safety Awareness Month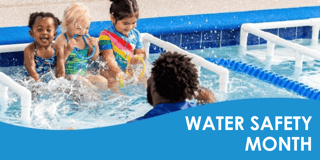 For the past 20 years, the month of May has been set aside to celebrate National Water Safety Awareness Month. As the de facto opening month of the summer swimming season, it's the perfect time to refresh our swimming skills - especially for our younger generation.
Thanks to a campaign backed by the American Red Cross, the National Drowning Prevention Alliance, and the National Recreation and Park Association, Water Safety Month seeks to provide resources and information to summer sports lovers about safety in the water. No matter the setting, including pools, lakes, rivers, ponds, or oceans, National Water Safety Awareness Month is a time for this important coalition to get a clear message across to families. Make a pledge - and a plan – to focus on water safety for you and your loved ones.
There's no doubt that water recreation is one of the most popular summer activities, not just in the U.S., but across the world. Backyard pools are becoming more prevalent in our communities, and families routinely plan vacations with access to major bodies of water – a must-have experience for the hot summer months. Among the top ways to ensure safety in the water is to become a strong swimmer through formal swimming lessons. During SafeSplash's swimming lessons, those who have yet to master the four strokes and basic treading exercises wear flotation devices and other swimming aids – all under the close supervision of qualified instructors. Because the reality is this - even confident, strong, and experienced swimmers can sometimes get into trouble – and it usually happens quickly. That's why it's important to have fail-safes, buddy systems, and backup safety plans for all water-related activities.
How do even experienced swimmers have trouble in the water? There are many reasons, but during emergencies or times of panic, humans often rely on our instincts – especially muscle memory. With the formal swim instruction provided by SafeSplash instructors, we build the foundation of mechanisms to handle situations such as these. Water play can go from fun to life-threatening in a matter of seconds. In fact, drownings occur far more often than most people think. A crisis in the water may happen in as little as 20 to 60 seconds. In many cases, the swimmer experiencing trouble in the water may not have enough time – or enough faculties – to signal for help. But those who have been the recipient of formal swim instruction have learned knowledge and instincts to fall back on.
Water safety actually begins before your toes even touch the water. This includes the importance of knowing about the body of water you're entering, with a full assessment of any present risks – both seen and unseen. Things like tides, currents, underwater hazards, steep drop-offs, and weather-related danger. Having the presence of mind to assess the pertinent information before entering a body of water is what National Water Safety Awareness Month is all about. And these types of life-saving behaviors are provided by qualified swim instructors.
National Water Safety Awareness Month is also the perfect time to check your water-related gear. Such as the quality and number of life preservers for boating, or that all safety equipment is in working order for backyard pools. It's also a good time to renew your commitment to supervising children and other at-risk individuals in the water. And lastly, it's the perfect time to sign your children up for swimming lessons. Summer is a time of fun in the sun and water activities will always play a central role. During the month of May, SafeSplash reminds you to give yourself the peace of mind that comes with knowing your kids can swim proficiently, while mastering water safety habits that will last a lifetime.
Visit www.safesplash.com to find a swim class near you and sign up today.
Let's Chat!
As the industry's leading swim instruction franchising group, we're dedicated to offering meaningful small business ownership opportunities. You can learn more about each of our individual brands by following these links:
SafeSplash, SwimLabs, and Swimtastic are the fastest growing swim school franchise brands and chances are there's an opportunity near you. Finding a location is easy and fun. Simply visit our directory of schools, listed by state, and click on the results. If you're interested in exploring franchise ownership with one of the Streamline Brands concepts, simply fill out this form and hit submit. We'll be in touch soon!