Get to Know SafeSplash Ambassador Missy Franklin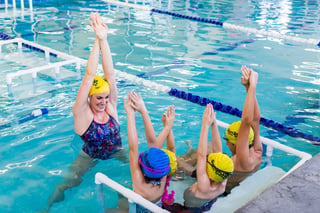 SafeSplash Ambassador Missy Franklin is quite a catch! Not every swimming school can boast of having a five-time Olympic Gold Medalist as an integral part of their swim curriculum team. SafeSplash employs teachings based on the experiences of over seven million swimming lessons they've given to date. And Missy adds into that base curriculum by relying on her decades of competitive swim experience and her dedication to teaching kids to learn to love the water.
Missy has a lot of lessons – besides just swimming – to teach students. Her story is one of dedication to the sport, early mornings, overcoming hardships, injuries, making flights, grueling practice schedules, and above all - sacrifice. Nobody becomes an Olympic Champion without first making a commitment. For this reason and many more, Missy is able to take these lessons and weave them into the fabric of SafeSplash's curriculum.
Missy Franklin looks back on how the relationship with our franchise opportunity began. "From the moment SafeSplash approached me to join their team, I felt it was a great fit. Our commitment to creating opportunities for kids to learn to love to swim resonates deeply within me. Swimming has given me a platform to help others feel pride, confidence, and personal achievement. My partnership with SafeSplash will allow me to expand my ability to do just that by reaching families around the globe."
Missy is also a wife and mother and currently resides in Colorado. She's also a dog lover and has a beloved Burmese Mountain Dog named Ollie. Missy considers herself to be a busy woman, balancing both the challenges of motherhood and continuing her career in the swimming industry. She serves as a brand ambassador for SafeSplash and the USA Swimming Foundation, and somehow still finds time to serve on the board of two other philanthropic foundations. She recently launched a clothing and swim gear line with her husband, Hayes, called SwimSwag. And, lest we forget, Missy is an accomplished communicator who participates in a great deal of public and motivational speaking in all her spare time.
One thing she inherently understands is commitment. Missy makes good habits a part of her daily life, waking up at six o'clock nearly every morning, getting her workout done right away, and then focuses on what goals she must meet each day for her brands. Often, that includes a frequent traveling schedule – sometimes twice in one week. While Missy feels that her swimming accomplishments are a part of who she is, she's also quick to point out that these achievements do not define her. She points out that she is family-oriented and considers marriage and motherhood to be among her greatest accomplishments.
Missy finds pleasure in activities other than swimming, including hiking, running, walking, and barre-style yoga. Being in Colorado makes it easy to get outside and enjoy the gorgeous scenery around you, and Missy enjoys taking full advantage. She also notes the importance of recharging her own battery, preferring to spend time with her family as a means of self-care, and always dedicates time to it.
Lastly, Missy is a very grounded individual. She has learned over time that people can forget the accomplishments you've earned, your records can be broken, and your times can be beaten. But the sportsmanship you display is a medal that no one can ever take from you. She truly gets the concept of enjoying the process and journey of life, not just focusing solely on the destination. The wisdom and enthusiasm that Missy brings to SafeSplash is priceless and the way she lives her life embodies the importance of her status as a role model. It's an honor to have someone of Missy's stature as a brand ambassador and an advisor to the swimming curriculum offered by SafeSplash.
Let's Chat!
As the industry's leading swim instruction franchising group, we're dedicated to offering meaningful small business ownership opportunities. You can learn more about each of our individual brands by following these links:
SafeSplash, SwimLabs, and Swimtastic are the fastest growing swim school franchise brands and chances are there's an opportunity near you. Finding a location is easy and fun. Simply visit our directory of schools, listed by state, and click on the results. If you're interested in exploring franchise ownership with one of the Streamline Brands concepts, simply fill out this form and hit submit. We'll be in touch soon!